PRAAPTI Portal: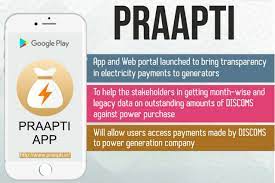 According to the portal, total outstanding dues of electricity distribution companies to power producers rose by 4.04 per cent year-on-year to Rs 1,21,765 crore (Rs 1.21 trillion) in May 2022.
DISCOMs owed a total of Rs 1,17,026 crore to power generation firms in May 2021.
PRAAPTI stands for- Payment Ratification And Analysis in Power procurement for bringing Transparency in Invoicing of generators.
The PRAAPTI portal was launched in May 2018 to bring transparency in power purchase transactions between generators and discoms.