"Energy Efficiency Enterprise (E3) Certifications Programme For The Brick Manufacturing Sector".: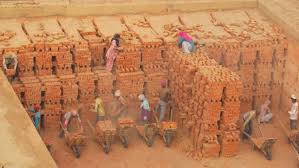 The Ministry of Power has launched the "Energy Efficiency Enterprise (E3) Certifications Programme for the Brick Manufacturing Sector".
The E3 Certification Scheme is aimed at tapping huge energy efficiency potential in this sector.
About the Energy Efficiency Enterprise (E3) Certifications Programme:
E3 certification is an accreditation process focused on the Brick industry. The certification will be provided by the Bureau of Energy Efficiency (BEE).
It is an initiative to recognize burnt clay brick manufacturers who adopt energy-efficient manufacturing and encourage customers to source bricks from such E3 certified manufacturing units.
It will be awarded to Brick Manufacturing Enterprises that meet the minimum Specific Energy Consumption (SECVol) performance criteria specified in the Scheme.
It is a shift from conventional to efficient technologies and product shift towards low-density bricks with better thermal insulation.
The adoption of the E3 Certification is currently voluntary for the Brick industry.
Brick Manufacturing Sector:
Contribution in GDP: The brick sector contributes nearly 0.7% to the country's GDP, offers seasonal employment generation to over 1 crore workers, and has a strong influence on other economic sectors such as transportation and construction.
Market Size: India is the world's second-largest producer of bricks and this demand is expected to multiply three to four times over the next 20 years, through the E3 Certification program.
Energy Consumption: The brick manufacturing industry consumes about 45-50 million tonnes of coal equivalent annually, amounting to 5-15% of the total energy consumption in the country.
The brick sector has the second-largest potential for energy efficiency amongst the Indian industrial sector after steel and more than cement.