Genome Mapping In Indian Ocean: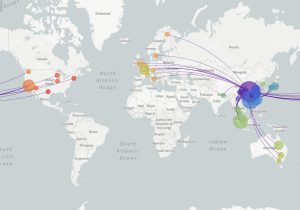 National Institute of Oceanography (NIO) is going to launch the first-of-its-kind project of Genome Mapping in the Indian Ocean.
The Indian Ocean is the third largest water body in the world, covering about 20% of the Earth's water surface.
Aim:

To gather samples for genome mapping of microorganisms in the Indian Ocean.
To understand the biochemistry and the response of the ocean to climate change, nutrient stress and increasing pollution.

Project Cost & Duration: Rs. 25 crores and will take three years to complete.
A team of scientists and researchers from the NIO onboard its research vessel Sindhu Sadhana will spend 90 days traversing the course of over 10,000 nautical miles in the Indian Ocean on the research project to reveal the internal working of the body of the ocean at a cellular level.
They will course the Indian Ocean from India's east coast, Australia, Port Louis in Mauritius and up to the border of Pakistan, off India's west coast.
Genome Collection:
The researchers will collect samples from various stretches of the ocean at an average depth of about 5 km.
Just like gene mapping is carried out on blood samples collected from humans, the scientists will map these in the bacteria, microbes found in the ocean.
The mapping of the Deoxyribose Nucleic Acid (DNA) and Ribonucleic Acid (RNA) will show the nutrients present in them, and also those lacking in different parts of the ocean.