EASE 4.0: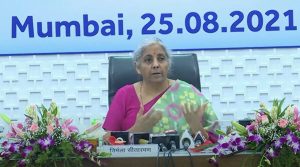 Union Minister of Finance and Corporate Affairs Smt. Nirmala Sitharaman today unveiled the fourth edition of the Public Sector Bank (PSB) Reforms Agenda 'EASE 4.0' for 2021-22 – tech-enabled, simplified, and collaborative banking
She also unveiled the annual report for the PSB Reforms Agenda EASE 3.0 for 2020-21.
Public Sector Banks have reported healthy profits and have accelerated on technology-driven reforms. These banks have reported a profit of Rs. 31,817 crore in FY21 as compared to a loss of Rs. 26,016 crore in FY20. This is the first year when PSBs have reported profit after five years of losses.
Total gross non-performing assets stood at Rs. 6.16 lakh crore as of March 2021 – a reduction of Rs. 62,000 crore from March 2020 levels.
Credit@click was a flagship initiative under EASE 3.0. Nearly 4.4 lakh customers have been benefitted through such instantaneous and simplified credit access.
Nearly 72% of financial transactions happening at PSBs is now happening through digital channels.
The next edition of EASE reforms i.e. EASE 4.0 aims to further the agenda of customer-centric digital transformation and deeply embed digital and data into PSBs' ways of working.