Daily Current Affairs for Government Exams:
Today Current Affairs: 24th September 2020 for UPSC IAS exams, State PSC exams, SSC CGL, State SSC, RRB, Railways, Banking Exam & IBPS, etc
Contents:
G4 Foreign Ministers Meeting:
CAG Survey Report
Plastic Parks Scheme:
World Risk Index 2020:
.PASSEX:
Other important current affairs
1.G4 Foreign Ministers Meeting: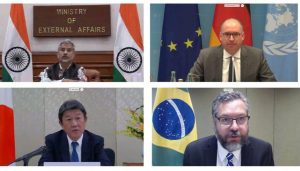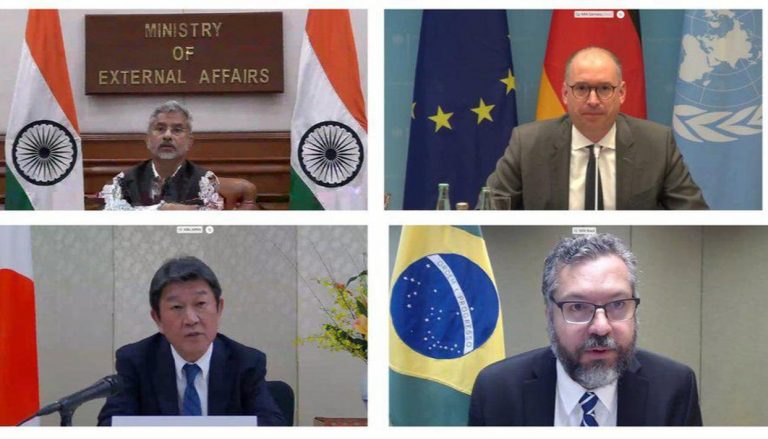 Foreign Ministers from the Group of 4 (G4), consisting of India, Brazil, Japan and Germany, participated in a virtual meeting.
G4 will seek concrete and time-bound outcomes during the 75th session of the UN General Assembly.
The UN will celebrate its 75th anniversary on 24th October 2020.
The Ministers reaffirmed their common resolve to finally take decisive steps towards the early and comprehensive reform of the Security Council that was envisaged by Heads of State and Government in the 2005 World Summit.
The 2005 World Summit was held at United Nations Headquarters in New York.
All governments expressed strong and unambiguous commitment to achieve the Millennium Development Goals by 2015.
It set up two new bodies, a Peacebuilding Commission to help countries in transition from war to peace, and a strengthened Human Rights Council.
G4 on UNSC Reforms
Africa needs to be represented in both the permanent and non-permanent categories of UNSC to correct the historical injustice against this continent with regard to its under-representation in the Security Council.
To make UNSC more legitimate, effective and representative, it is needed to increase the number of permanent (from 5 to 11) and non-permanent (from 10 to 14) seats.
The permanent seats shall be elected in the following manner: Two from African States; Two from Asian States; One from Latin American and Caribbean States ; One from Western European and Other States.
Non-permanent members shall be elected according to the following pattern : One from African States ; One from Asian States ; One from Eastern European States ; One from Latin American and Caribbean State
The UNSC reforms proposed earlier had been opposed by the five permanent members (P5) of UNSC as they demanded veto power for new members as well (Rizali Plan). However, later the new countries decided to forego the veto power for new countries which was accepted by P5 countries (Rizali Reform Plan).
The G4 will work with other reform-minded countries and groups to start text-based negotiations (TBN)
India is a proponent of TBN at the UN.
Countries opposed to UNSC reform, including China, are hesitant to have TBN for intergovernmental negotiations on the grounds that the matter is too sensitive for text.
Two sessions in February and March 2020 of Inter-Governmental Negotiations (IGN) on UNSC reform were adjourned due to Covid-19, which could have taken place virtually.
The countries expressed concern that IGN lacks the necessary openness and transparency and is constrained by flawed working methods.
IGN should also have included a reflection of the Common African Position as enshrined in the Ezulwini Consensus and the Sirte Declaration.
The Ezulwini Consensus (2005) is a position on international relations and reform of the United Nations, agreed by the African Union.
It calls for a more representative and democratic Security council, in which Africa, like all other world regions, is represented.
The Sirte Declaration (1999) was the resolution adopted to establish the African Union.
An informal "coffee club" or Uniting for Consensus Group has opposed UNSC reforms.
Most members of the club are middle-sized states who oppose bigger regional powers grabbing permanent seats in the UN Security Council.
While Italy and Spain are opposed to Germany's bid for UNSC's permanent membership, Pakistan is opposed to India's bid.
Similarly, Argentina is against Brazil's bid and Australia opposes Japan's.
India's Position:
India will commence a two-year non-permanent term on the UNSC in January 2021
It has long sought a permanent seat at the Council.
Four of the five permanent members of the Security Council – USA, UK, France, and Russia support giving India a permanent seat at the Council. Only China is opposed to this.
India is also seeking reforms to democratize the UN, such as UNSC reforms and UN peacekeeping reforms.
2.CAG Survey Report :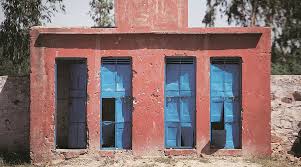 The Comptroller and Auditor General of India (CAG) has flagged irregularities in the construction of toilets in schools by Central Public Sector Enterprises (CPSEs) in an audit report tabled before Parliament.
Key Points
There are 10.8 lakh government schools in the country. Overall, more than 1.4 lakh toilets have been built by 53 CPSEs, with significant support coming from power, coal and oil companies as part of the Swachh Vidyalaya Abhiyan.
The CAG audit conducted a physical survey of a sample of 2,695 toilets built by these companies in 15 States.
Issues Found:
Out of the 1,967 coeducational schools surveyed, 99 schools had no functional toilets while 436 had only one functional toilet, meaning that the objective of providing separate toilets for boys and girls was not fulfilled in 27% of the schools.
75% of toilets did not follow the norm for daily cleaning at least once a day.
72% of constructed toilets had no running water facilities inside, and 55% had no hand washing facilities at all, an even greater necessity in Covid-19 affected times.
Out of the sample of 2,695 toilets, CPSEs identified but did not construct 83. Another 200 toilets were reported to be constructed, but were non-existent, while 86 toilets were only partially constructed.
Thus, almost 40% of toilets were non-existent, partially completed or unused.
The audit also noticed cases of defective construction of toilets, non-provision of foundation, ramp/staircase and damaged or overflowed leach pit, which led to ineffective use of toilets.
Prefabricated structures were used for constructing many toilets leading to extra expenditure, dilution in durability and non-compliance with direction.
Swachh Vidyalaya Abhiyan:
It was launched by the Ministry of Human Resource Development (now Ministry of Education) in September 2014.
The aim is to meet the Right to Education Act's mandate that all schools must have separate toilets for boys and girls.
In order to effectively change the behavior of students, the program norms required the CPSEs to build toilets with running water and handwashing facilities and to maintain the toilets for three to five years while charging the annual expenses to their Corporate Social Responsibility (CSR) budgets.
3.Plastic Parks Scheme: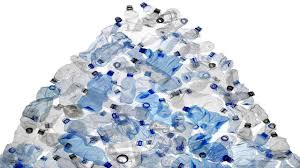 The Ministry of Chemicals & Fertilizers has approved setting up of 10 Plastic Parks in the country.
The Parks are being set up in the states of Assam, Madhya Pradesh, Odisha, Tamil Nadu, Jharkhand, Uttarakhand and Chhattisgarh.
A Plastic Park is an industrial zone devoted to plastic enterprises and its allied industries.
The share of India in world trade of plastics is very low. India's share in the USD 1 trillion global plastic exports market is about 1%.
The Indian Plastics industry is large but highly fragmented with dominance of tiny, small and medium units and thus lacks the capacity to tap this opportunity.
The Scheme for setting up of Plastic Parks has been formulated with a view to synergize and consolidate the capacities through cluster development.
Features of the Scheme:
Supports setting up of a need based 'Plastic Parks' – an ecosystem with requisite state of the art infrastructure and enabling common facilities to assist the plastic sector move up the value chain and contribute to the economy more effectively.
Objectives:
Increase the competitiveness, polymer absorption capacity and value addition in the domestic downstream plastic processing industry through adaptation of modern, research and development led measurers.
In the petrochemical supply chain, the plastics industry can be classified into two categories.
First, the manufacturing of polymers, which is called 'upstream'.
The second one is conversion of processable polymers (plastic raw materials) into useful end products, which are classified as 'downstream'.
Achieve environmentally sustainable growth through innovative methods of waste management, recycling, etc.
Funding:
The Central Government provides grant funding up to 50% of the project cost, subject to a ceiling of Rs. 40 crore per project.
The remaining project cost is funded by the State Government, beneficiary industries and by loan from financial institutions.
Implementation:
A Special Purpose Vehicle (SPV) shall complete the setting up of the Plastic Park in a period of three years from the date of final approval.
The SPV is a distinct legal entity formed by the State Government or its agency.
The Central Institute of Petrochemicals Engineering and Technology (CIPET) has established a Centre for Skilling and Technical Support (CSTS) at Vijayawada in Andhra Pradesh which provides Diploma programmes and skill development training programmes in the field of Plastics Engineering & Technology.
CIPET is a premier government of India institute.
4.World Risk Index 2020: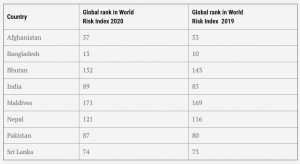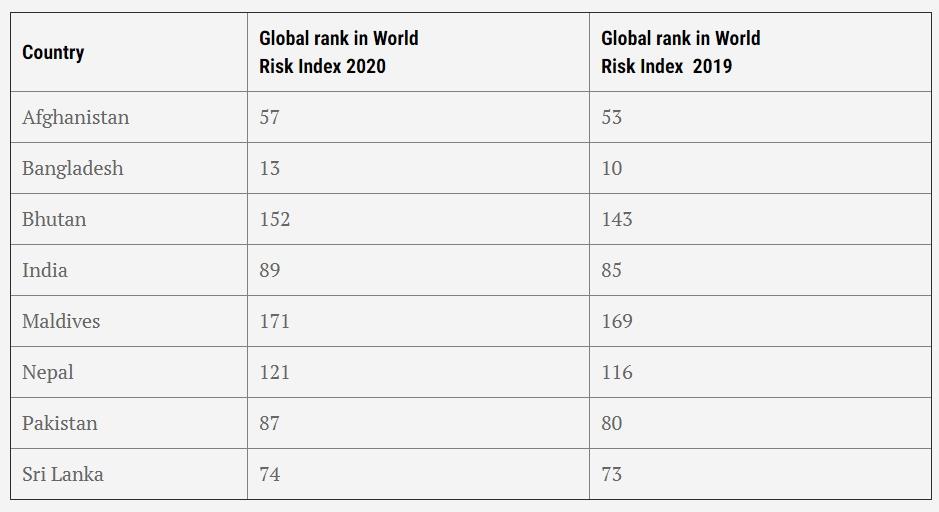 World Risk Index (WRI) 2020, India is 'poorly prepared' to deal with 'climate reality', due to which it is vulnerable to extreme natural disasters.
World Risk Index:
It is calculated on a country-by-country basis, through the multiplication of exposure and vulnerability and describes the disaster risk for various countries and regions.
Released annually since 2011, it indicates which countries are in the greatest need to strengthen measures for coping with and adapting to extreme natural events.
It is part of the World Risk Report 2020 released by the United Nations University Institute for Environment and Human Security (UNU-EHS), Bundnis Entwicklung Hilft, and the University of Stuttgart in Germany.
Among continents, Oceania is at the highest risk, followed by Africa and the Americas.
Africa:
It has been identified as a hotspot of vulnerability.
More than two-thirds of the most vulnerable countries in the world are located on the continent.
The size of semiarid regions in Africa is expected to increase, with over half of Africa's land area vulnerable to desertification.
Large areas of Africa are marginalized and already under significant financial stress.
The Central African Republic is the most vulnerable country, followed by Chad, the Democratic Republic of Congo, Niger and Guinea-Bissau.
South Asia and India:
India has ranked 89th among 181 countries on the WRI 2020 and is fourth-most-at-risk in South Asia, after Bangladesh, Afghanistan and Pakistan.
Sri Lanka, Bhutan and the Maldives have fared better than India in their abilities to cope with extreme disasters.
India also lags behind these three neighbours in terms of lack of adaptive capacities or the preparedness to deal with extreme events.
A comparison with the WRI 2019, shows that all south Asian countries have slipped on their ability to adapt to the reality of climate emergency.
Countries with a score above 52.73, are 'very poor' in their adaptive capacities for extreme natural disasters.
5.PASSEX: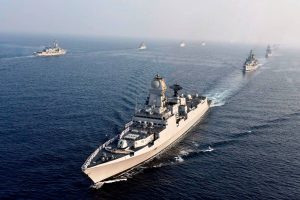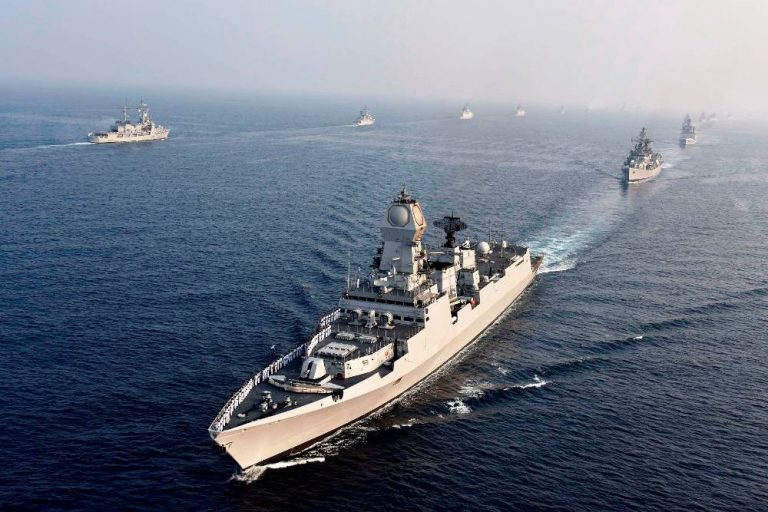 The Indian and the Australian navies are undertaking Passage Exercise or PASSEX exercises on September 23-24 in the Indian Ocean.
From the Indian side, Indian Naval Ships Sahyadri and Karmuk will be present and Australia will be represented by HMAS Hobart.
PASSEXs are regularly conducted by the Indian Navy with units of friendly foreign navies.
Australia is the third country, since June, with which India will conduct the exercises.
The first was with US Navy's USS Nimitz and the second was the Russian Navy.
Other important current affairs:
1.National Highways & Infrastructure Development Corporation Ltd (NHIDCL), under Ministry of Road, Transport & Highways (MoRTH), has expedited making detailed project report for the world's longest high-altitude Shinkun La Tunnel.
The tunnel (13.5 Km long) is proposed to be built on the border between Ladakh and Himachal Pradesh. Once it is complete, the Manali-Kargil highway will remain open throughout the year.
The tunnel will provide all-weather road connectivity between Himachal Pradesh and Jammu and Kashmir in Zanskar valley.
With the construction of the tunnel, inhabitants of around 15-odd villages of Zanskar Valley in Jammu and Kashmir will be relieved since the valley remains cut off due to heavy snowfall during the winter.
2.Railways has planned for 100 per cent electrification of its broad gauge routes by 2023. This was stated by the Railway Minister Piyush Goyal in a written reply in the Rajya Sabha.
The Minister informed that around 63 per cent broad gauge lines have already been electrified out of a total 63,631 route kilometers as on 1st of April this year. A total of 23,765 route kilometre lines are yet to be electrified in the country.
Several steps have been taken to expedite electrification of railway lines in the country and they include, award of Engineering Procurement and Construction (EPC) contracts, better project monitoring mechanism etc.
3.The Lok Sabha adjourned sine die recently in what is being termed one of the shortest sessions in India's parliamentary history, but which was packed with 25 Bills.
A sitting of Parliament can be terminated by adjournment or adjournment sine die or prorogation or dissolution (in the case of the Lok Sabha).
Adjournment: It suspends the work in a sitting for a specified time, which may be hours, days or weeks.
Adjournment sine die: It means terminating a sitting of Parliament for an indefinite period.
In other words, when the House is adjourned without naming a day for reassembly.
The power of adjournment as well as adjournment sine die lies with the presiding officer (Speaker or Chairman) of the House.
Prorogation: The President issues a notification for prorogation of the session after the business of a session is completed and the presiding officer declares the House adjourned sine die. The President can also prorogue the House while in session.
Dissolution: Only the Lok Sabha is subject to dissolution. Rajya Sabha, being a permanent House, is not subject to dissolution.
A dissolution ends the life of the existing House, and a new House is constituted after general elections are held.
4.CPCB recently celebrated its 46th Foundation Day
Central Pollution Control Board  is a statutory organisation which was constituted in September, 1974 under the Water (Prevention and Control of Pollution) Act, 1974.
It was entrusted with the powers and functions under the Air (Prevention and Control of Pollution) Act, 1981.
It serves as a field formation and also provides technical services to the Ministry of Environment and Forests under the provisions of the Environment (Protection) Act, 1986.
Important functions:

to promote cleanliness of streams and wells in different areas of the States by prevention, control and abatement of water pollution.
to improve the quality of air and to prevent, control or abate air pollution in the country.
5.The Centre retained in the Consolidated Fund of India (CFI) more than ₹1.1 lakh crore out of the almost ₹2.75 lakh crore collected in 2018-19 through various cesses, instead of transferring the receipts to the specified Reserve Funds that Parliament had approved for such levies, the Comptroller and Auditor General (CAG) of India observed in a report.
₹1,24,399 crore collected as cess on crude oil over the last decade had not been transferred to the designated Reserve Fund — the Oil Industry Development Board.
The Goods and Services Tax (GST) Compensation Cess, which has become a bone of contention between the States and the Centre, was also 'short-credited' to the relevant reserve fund to the extent of ₹40,806 crore in 2018-19.
Cess :

It is a form of tax levied or collected by the government for the development or welfare of a particular service or sector.
It is charged over and above direct and indirect taxes.
Cess collected for a particular purpose cannot be used for or diverted to other purposes.
It is not a permanent source of revenue for the government, and it is discontinued when the purpose levying it is fulfilled.
7.Kritagya' Hackathon:
It is being organised in order to promote potential technology solutions for enhancing farm mechanization with special emphasis on women friendly equipments.
The hackathon has been planned by the Indian Council of Agricultural Research (ICAR) under National Agricultural Higher Education Project (NAHEP).
Students, faculties and innovators/entrepreneurs from any university / technical institution across the country can apply and participate in the event in the form of a group.
8.International Sign Languages Day:
Observed on 23 September.
Theme: 'Sign Languages are for everyone'.
The day was celebrated in India by ISLRTC.
Indian Sign Language Research and Training Centre (ISLRTC), an autonomous body under Ministry of Social Justice and Empowerment.
Rights of Persons with Disabilities Act, 2016 recognizes Sign Language as a means of communication.
9.Science & Technology Indicators (STI) report for 2019-20, India performs very dismally in the field science & technology innovation.
The STI report is released by the Department of Science and Technology (DST).
Patent Data:

Between 2005-06 and 2017-18, a total of 5,10,000 patent applications were filed in India. However, nearly three-quarters were filed by foreign entities or individuals.
In other words, in these 13 years, just 24% of patent claims came from Indians.
Patent filing in India is governed by Patents Act, 1970. Recently, the Office of the Principal Scientific Adviser to the Government of India and the DST have jointly initiated the formulation of a new national Science Technology and Innovation Policy (STIP 2020).
A patent is the granting of a property right by a sovereign authority to an inventor.
This grant provides the inventor exclusive rights to the patented process, design, or invention for a designated period in exchange for a comprehensive disclosure of the invention.
According to the World Intellectual Property Organisation (WIPO), India stands at the 7th position on number of patents filed.
China tops the list, followed by the USA and Japan.
10.The magnitude of the Sun's solar activity is decreasing. This period of decreased solar activity is known as the Modern Grand Solar Minimum that will last from 2020 to 2053.
Measurement of Solar Activity: This is done by observing the number of Sunspots at any given time.
The number of sunspots is directly proportional to solar activity.
More Sunspots mean more solar activity.
Sunspots (some as large as 50,000 km in diameter) are areas that appear dark on the surface of the Sun (photosphere).
They appear dark because they are cooler than other parts of the Sun's surface.
Sunspots are relatively cool because they form at areas where magnetic fields are particularly strong.
These magnetic fields are so strong that they keep some of the heat within the Sun from reaching the surface.
Decrease in Sun Spots: According to the United States National Oceanic and Atmospheric Administration's (NOAA), 71% of the Sun had no Sun spots in 2020 through September 21, 2020 as compared to 77% in 2019.
11.China has renewed its support for the Paris Agreement at the United Nations (UN) General Assembly, while calling for a 'green focus' as the world recovers from the Covid-19 crisis.
China is the world's biggest polluter and accounts for a quarter of the planet's greenhouse gas (GHG) emissions.
It now aims to reach carbon-dioxide emissions peak before 2030 and achieve carbon neutrality before 2060.
The 2060 objective is still a decade later than the date set by other small states as well as European powers but it has been appreciated by experts as a significant step to inject momentum into the Paris accord.
In addition to its embrace of global emissions-busting deals, China already feeds nearly 15% of its energy demands with non-fossil fuels and its installation of renewable energy stands at 30% of the world total.
However, global experts have highlighted that there are massive investments continuing within China and overseas in coal and other fossil fuels.
China currently has 135 gigawatts of coal-power capacity either permitted or under construction, according to Global Energy Monitor, a San Francisco-based environmental group.
This equates to about half the total coal-power capacity in the USA which is the second-largest polluter after China.
12.Parliament has passed the Bilateral Netting of Qualified Financial Contracts Bill, 2020 with Rajya Sabha approving it.
The bill provides a legal framework for bilateral netting of qualified financial contracts.
Netting refers to offsetting of all claims arising from dealings between two parties to determine a net amount payable or receivable from one party to another.
The bill allows for enforcement of netting for qualified financial contracts.
The provisions of the bill will apply to Qualified Financial Contracts between two qualified financial market participants where at least one party is an entity regulated by the specified authorities RBI, SEBI, IRDAI, PFRDA or the IFSCA.
The bill is critical for financial stability in the country and will provide legal basis for bilateral netting between two parties. This bill will also ensure liquidity in the market.
13.Over 450 long-finned pilot whales have died in Australia's largest recorded mass-stranding event. The whales were beached at a remote beach in Tasmania's west coast.Beaching/Stranding Events:
Beaching refers to the phenomenon of dolphins and whales stranding themselves on beaches.
There are around 2,000 strandings each year worldwide, with most resulting in the death of the animal.
Whales strand themselves on beaches either singularly or in groups. While individual strandings are mostly attributed to injury or sickness, it is not clear why exactly whales beach themselves in groups.
13.World Maritime Day 2020 observed on 24 September under the Theme "Sustainable Shipping for a Sustainable Planet."
World Maritime Day is observed on September 24 to mark the contribution of international maritime industries towards the economy of the world especially shipping.
Every year the International Maritime Organization (IMO) celebrates World Maritime Day.
It is usually celebrated during the last week in September, generally the last Thursday of the month.