What Is National Land Monetization Corporation (NLMC)?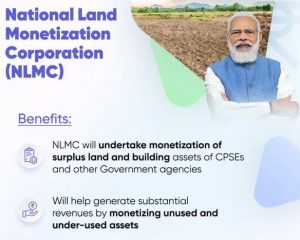 The Union Cabinet has approved the setting up National Land Monetization Corporation (NLMC) as a wholly owned Government of India company.
The Finance Minister had announced plans to set up a special purpose vehicle for this purpose in the Union Budget 2021-22.
In August, 2021, the government of India launched the National Monetisation Pipeline (NMP).
NLMC will undertake surplus land asset monetisation as an agency function, and assist and provide technical advice to the Centre in this regard.
NLMC has been announced with an initial authorized share capital of Rs 5000 crore and paid-up share capital of Rs 150 crore.
The Board of Directors of NLMC will comprise senior Central Government officers and eminent experts to enable professional operations and management of the company.
The Chairman, non-Government Directors of the NLMC will be appointed through a merit-based selection process.
The new company, which will be set up under the administrative jurisdiction of the finance ministry.
NLMC will hire professionals from the private sector just as in the case of similar specialised government companies like the National Investment and Infrastructure Fund (NIIF) and Invest India.