Ecological Threat Report 2023: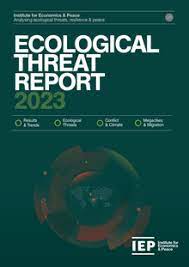 A recent report by the Institute for Economics and Peace (IEP) warns that the number of people living in countries facing severe ecological threats is expected to surge to 2.8 billion by 2050, up from the current 1.8 billion.
The report reveals that the number of countries grappling with severe ecological threats and limited societal resilience has surged from 27 to 30 in the past year.
Sub-Saharan Africa particularly stands out as a region with significantly heightened ecological threats.
Among the 30 countries identified as hotspots for severe ecological threats and low societal resilience, 19 are located in sub-Saharan Africa. Ethiopia, Niger, Somalia, and South Sudan are considered the most vulnerable, with Ethiopia and Niger newly emerging as hotspots.
The report also adds Myanmar to the list of countries facing heightened ecological threats.
In contrast, Europe and North America remain the only regions where no country currently faces a severe ecological threat, according to the report.
The report categorizes ecological threats into four main areas: food insecurity, natural disasters, demographic pressure, and water risk.
Currently, 42 countries are experiencing severe food insecurity, affecting nearly four billion people, primarily in sub-Saharan Africa.