World Food India 2023 : New Delhi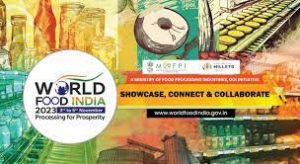 Prime Minister Narendra Modi officially opened the second edition of 'World Food India 2023' at Bharat Mandapam, Pragati Maidan, New Delhi recently.
Prime Minister also extended Seed Capital Assistance to over one lakh members of Self Help Groups (SHGs) to strengthen these groups.
This support, marked by superior packaging and high-quality manufacturing, is aimed at enabling SHGs to command better prices in the market.
PM Modi inaugurated the 'Food Street' as part of World Food India 2023.
This unique feature will showcase regional cuisines and India's rich culinary heritage.
Over 200 chefs will participate, presenting traditional Indian cuisine, promising an exceptional culinary experience.
The event's primary objective is to present India as the 'food basket of the world' while celebrating 2023 as the International Year of Millets.
It provides a platform for government bodies, industry professionals, farmers, entrepreneurs, and stakeholders to engage in discussions, form partnerships, and explore investment opportunities in the agri-food sector.
CEO roundtables will focus on investment and Ease of Doing Business.
It will feature pavilions highlighting the innovation and strength of India's food processing industry.
The event will host 48 sessions covering various aspects of the food processing industry, with a focus on financial empowerment, quality assurance, and innovations in machinery and technology.