Patan Patola Scarf: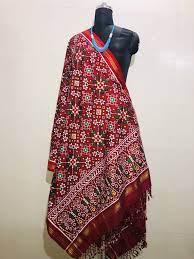 Prime Minister of India gifted a 'Patan Patola' scarf to the Prime Minister of Italy at the G20 summit.
Patola is a double ikat woven fabric, usually made from silk in Patan (North Gujarat).
Ikat is a method of tie-dyeing the warp or weft before the cloth is woven.
It received a Geographical Indication (GI) tag in 2013.
The ancient art of double ikat or Patola woven in pure silk dates back to the 11th century.
This peculiar quality has its origins in an intricate and difficult technique of dyeing or knot dyeing, known as 'bandhani', on the warp and weft separately before weaving.
Patola is woven on primitive hand-operated harness looms made out of rosewood and bamboo strips. The loom lies on a slant.
The other commonly worn Patola is the Rajkot Patola, woven on a flat loom.
The base price of a Patola saree in the Patan weave starts from Rs 1.5 lakh up and can go up to Rs 6 lakh.