Set Up Divyang Department : Maharashtra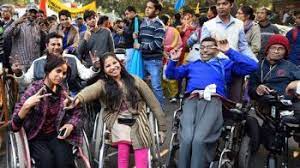 The state government of Maharashtra recently approved the formation of a separate government department for the divyang (differently abled).
The announcement of this development came on the occasion of the International Day of Disabled Persons.
This comes after 20 years of demand for a separate department for the welfare and security of differently abled people.
Maharashtra is the first state in India to set up a separate department for Divyang .
This department is established to serve the physically and mentally disabled people in the state both educationally and professionally.
It seeks to ensure the welfare of the Divyangs and effectively implement various government schemes targeting them.
As many as 2,063 posts have been created in the new department and a total outlay of Rs.1,143 crores is provided for it.
Earlier, all complaints and issues related to differently-abled people came under the jurisdiction of Social Justice Department headed by the Minister of Social Justice and Empowerment.
All sections looking into the concerns of differently-abled people under the Social Justice and Special Assistance department will be clubbed together to form the Divyang department.
All schemes implemented for the divyangs will be brought under one roof.
Earlier, they are routed through the social justice and welfare department.