Employees' Provident Fund Organization, EPFO: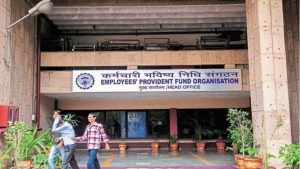 The Central Board of Trustees (CBT) which is the apex decision-making body of Employees' Provident Fund Organization, EPFO has approved constitution of four sub-committees comprising members of the Board from employees, employers' side as well as from representatives of the Government side on different matters.
Two committees on Establishment related matters and futuristic implementation of Social Security Code will be headed by the Minister of State Labour and Employment Rameswar Teli.
The remaining two committees on Digital capacity building and Pension related issues will be headed by Labour and Employment Secretary Sunil Barthwal.
The decision to this effect was taken at the 229th meeting of the Central Board of Trustees which was held in New Delhi under the chairmanship of Union Minister for Labour and Employment Bhupender Yadav.
Besides, the Board decided to empower the Finance Investment and Audit Committee to decide upon the investment options, on case-to-case basis, for investment in all such asset classes which are included in the Pattern of Investment.
The minister also released a booklet titled 'Nirbadh: seamless service delivery.' This booklet is a compilation of initiatives taken and strategies adopted by EPFO towards successful digital transformation from 'EPFO to e-EPFO' over the last three years.