Eublepharis Pictus: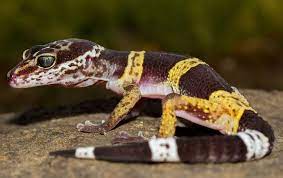 A gecko found in Visakhapatnam in 2017, then thought to belong to a known species, has now been identified as a member of a new species.
The species, Eublepharis pictus, also known as the Painted Leopard Gecko, has been described in the journal Evolutionary Systematics.
Researchers had initially identified the specimen, as an East Indian Leopard Gecko (Eublepharis hardwickii).
This new species appears to be common in the forests of Andhra Pradesh and Odisha.
The gecko genus Eublepharis now has 7 species.
The new species differs from all members of the genus Eublepharis except for E hardwickii.
Geographically the two species appear to be separated by the Brahmani River.
Based on IUCN (International Union for the Conservation of Nature) conservation prioritization criteria, the researchers propose to list E pictus… and E hardwickii as Near Threatened (NT).