Seven Products From Uttar Pradesh Have Received The GI Tag: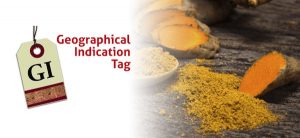 Seven of its distinctive products being granted Geographical Indication (GI) tags by the Geographical Indications Registry in Chennai.
Seven Products are:
Amroha Dholak: A Musical Marvel
The Amroha Dholak is a musical instrument crafted from natural wood.
Preferred wood choices include mango, jackfruit, and teakwood.
Animal skin, usually goatskin, is meticulously fitted to create the drum's surface.
Baghpat Home Furnishings:
Baghpat and Meerut are renowned for their exclusive handloom home furnishing products.
The weaving process involves cotton yarn and is predominantly done on frame looms.
Barabanki Handloom Product:
Barabanki and its surrounding areas are home to around 50,000 weavers and 20,000 looms.
The annual turnover of the Barabanki cluster is estimated to be ₹150 crore.
Kalpi Handmade Paper:
Kalpi is recognized for handmade paper manufacturing.
Munnalal 'Khaddari,' a Gandhian, introduced the craft in the 1940s, although its roots in Kalpi's history may extend further.
Mahoba Gaura Patthar Hastashlip:
Mahoba Gaura Patthar Hastashlip represents the unique stone craft of Mahoba.
The stone used, scientifically known as the 'Pyro Flight Stone,' is a soft and radiant white-coloured stone predominantly found in the region.
Mainpuri Tarkashi:
Mainpuri Tarkashi is a popular art form characterised by brass wire inlay work on wood.
Traditionally used for khadaous (wooden sandals), Mainpuri Tarkashi has been a household necessity.
Leather alternatives were sought due to cultural considerations regarding cleanliness
Sambhal Horn Craft:
Sambhal Horn Craft utilises raw materials procured from deceased animals and this craft form is entirely handmade.