Bird Survey At Nagarahole Tiger Reserve: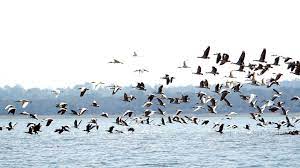 The recent bird survey conducted at Nagarahole Tiger Reserve has resulted in the recording of 290 bird species, including a few migratory ones.
Nagarahole Tiger Reserve is an important Tiger Reserve in Karnataka and is a major hub of conservation under Project Tiger and Project Elephant.
Nagarahole Tiger Reserve previously known as Rajiv Gandhi National Park was named after the river Nagarahole.
This tiger reserve forms a critical connecting habitat for tigers and elephants to other areas of the Western Ghats through the Brahmagiri wildlife sanctuary and to the Eastern Ghats through the Bandipur Tiger reserve.
Flora: It consists mainly of moist deciduous forests with predominating trees of teak and rosewood.
Fauna: Tiger, Leopard Asiatic, Wild Dog, Sloth Bear, Asiatic Elephant, Gaur, Sambar Chital Muntjac, Four Horned Antelope etc.