Chauri Chaura Centenary Celebrations: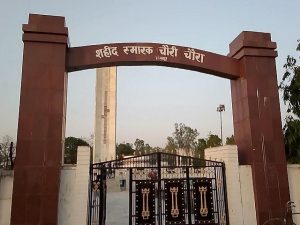 Prime Minister Narendra Modi will inaugurate the Chauri Chaura Centenary Celebrations at Chauri Chaura, Gorakhpur, Uttar Pradesh, on 4th February 2021.
The day marks 100 years of the 'Chauri Chaura' incident, a landmark event in the country's fight for independence.
The Chauri Chaura incident took place on 4 February 1922 at Chauri Chaura in the Gorakhpur district of the United Province (modern Uttar Pradesh) in British India.
In this, a large group of protesters participating in the Non-cooperation movement clashed with police who opened fire.
In retaliation the demonstrators attacked and set fire to a police station, killing all of its occupants.
The incident led to the death of three civilians and 22 policemen.
Mahatma Gandhi, who was strictly against violence, halted the non-co-operation movement on the national level on 12 February 1922, as a direct result of this incident
Need Monthly Current Affairs PDF?
Get everything on your phone with our all in one app for your UPSC Preparation.
Get daily current affairs on you phone
Download monthly current affairs PDF
All India daily mock tests with ranking