Shantiniketan : UNESCO World Heritage Site Tag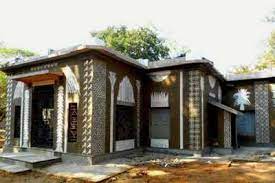 Santiniketan in West Bengal has been recommended for inclusion in UNESCO's World Heritage List.
Santiniketan is a renowned cultural and heritage place located in Birbhum District, West Bengal, India.
It holds historical significance and is known for its association with Nobel laureate Rabindranath Tagore.
It was the home of Rabindranath Tagore, where he lived and composed many of his literary works, including songs, poems, and novels.
The Santiniketan campus is adorned with splendid sculptures, frescoes, murals, and paintings created by renowned artists such as Rabindranath Tagore, Nandalal Bose, Ramkinkar, Binodbehari Mukhopadhyay, and others.
Santiniketan celebrates unique festivals like Briksharopan (festival of Planting Saplings) and Halakarshan (festival of Plowing the Fields) on the 22nd and 23rd days of Sravana (August), respectively.
Varshamangal, the festival of rains, is celebrated during August/September.
Poush Mela is an annual fair and festival held in Santiniketan, starting on the 7th day of the month of Poush.
The fair officially lasts for three days, but vendors may stay until the end of the month.
It is known for live performances of Bengali folk music, particularly by bauls (traditional wandering minstrels), and also features tribal dances like Santali.