Exercise Orion: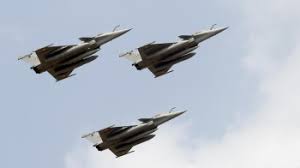 Four Rafale fighter jets of the Indian Air Force (IAF) will soon depart to France to take part in multilateral exercise Orion at Mont-de-Marsan, an Air Force base of the French Air and Space Force (FASF).
Exercise Orion is a multinational exercise hosted by the French government.
It is reportedly the largest ever multinational exercise being carried out by the French defence forces which have involved their Army, Navy and Air Force.
It includes ground troops, warships, aircraft carriers and combat aircraft and is meant to boost military cooperation and interoperability among participating nations.
Besides the IAF and the FASF, Air Forces from Germany, Greece, Italy, Netherlands, Spain, U.K. and U.S. would also be flying in this multilateral exercise.
The IAF contingent will include four Rafale aircraft, two C-17, two IL-78 aircraft and 165 air warriors.
This would be the first overseas exercise for the IAF's Rafale aircraft.