India's Retail Inflation Rate: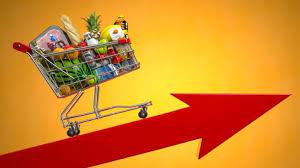 India's retail inflation rate declined to 5.66%, below the Reserve Bank of India's (RBI) upper target of 6% in March 2023, primarily due to a decrease in food prices, especially for vegetables.
Core inflation, which excludes food and fuel prices, was at 5.95% in March, down from 6.12% in February.
The decrease in retail inflation is a positive development for the economy.
It provides some relief to consumers who have been dealing with rising prices for essential goods and services. Moreover, it could give the RBI more flexibility in its monetary policy decisions going forward.
However, it remains to be seen if this trend will continue, and if the RBI will adjust interest rates accordingly.
Retail Inflation:
Retail inflation, also known as Consumer Price Index (CPI) inflation, is the rate at which the prices of goods and services that consumers buy for personal use increase over time.
It measures the change in the cost of a basket of goods and services that are typically purchased by households, including food, clothing, housing, transportation, and medical care.
Four types of CPI are as follows:

CPI for Industrial Workers (IW).
CPI for Agricultural Labourer (AL).
CPI for Rural Labourer (RL).
CPI for Urban Non-Manual Employees (UNME).

Of these, the first three are compiled by the Labour Bureau in the Ministry of Labour and Employment.
Fourth is compiled by the NSO in the Ministry of Statistics and Programme Implementation.
Base Year for CPI is 2012.
In 2020, the Ministry of Labour and Employment released the new series of Consumer Price Index for Industrial Worker (CPI-IW) with base year 2016.
The Monetary Policy Committee (MPC) uses CPI data to control inflation. In April 2014, the RBI adopted the CPI as its key measure of inflation.