India's Tallest Ambedkar Statue: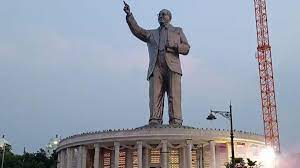 Telangana Chief Minister will unveil a 125-feet-tall statue of Dr B R Ambedkar on the banks of Hussainsagar, marking the latter's 132nd birth anniversary.
India's tallest Ambedkar statue On the banks of Hussainsagar near the new Secretariat complex in Hyderabad.
It is claimed to be the tallest statue in the country ever built for Dr B R Ambedkar.
It has an overall height of 175 feet, including a 50 feet high circular base resembling the edifice of the Parliament of India.
The statue weighs 474 tonnes.
360 tonnes of stainless steel was used for building the armature structure of the statue.
114 tonnes of bronze was used for the casting of the statue.
It was designed by renowned sculptors Ram Vanji Sutar and his son Anil Ram Sutar of Ram Sutar Art Creations in Noida, Uttar Pradesh, who also designed several monumental sculptures, including the world's tallest statue — the Statue of Unity (597 feet) of Sardar Vallabhbhai Patel in Gujarat.