Sagar Nidhi : To Participate In a Joint Ocean Expedition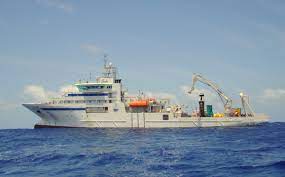 Scientists from Bangladesh and Mauritius recently embarked onboard India's research vessel Sagar Nidhi to participate in a joint ocean expedition.
The event took place under the framework of the Colombo Security Conclave (CSC) between the nations of the Indian Ocean Region (IOR).
Sagar Nidhi:
Ocean Research Vessel (ORV) Sagar Nidhi is a multidisciplinary vessel operated by the National Institute of Ocean Technology, Ministry of Earth Sciences.
It was built in 2007 by Fincantieri, Italy.
It is India's third research vessel after Sagar Purvi and Sagar Paschimi.
It is 104 metres long and 18 metres wide.
It is powered by fully automatic diesel-electric propulsion.
It is designed with blue-water capability with ranges of up to 10,000 nautical miles (19,000 km) for voyages lasting up to 45 days.
It is equipped to launch submersible capsules capable of taking scientists to a depth of six km below sea level.
The vessel is capable of carrying out geo-scientific, meteorological and oceanographic research.
The vessel would be used for launching tsunami monitoring systems and remotely operable vehicles, for identifying mines and gas hydrates.
It would provide a cutting-edge reference point for the study of marine theatres of operation, including tropical and polar environments.