Exercise 'Samanvay 2022':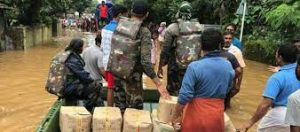 Indian Air Force is conducting the Annual Joint Humanitarian Assistance and Disaster Relief (HADR) Exercise "Samanvay 2022" from 28th to 30th November 2022 at Air Force Station in Agra.
The exercise aims to provide a unique platform for the exchange of domain knowledge, experience and best practices with the participating Association of Southeast Asian Nations (ASEAN) member countries.
Various representatives of the ASEAN countries are participating in the exercise.
The aim of the exercise includes assessing the efficacy of institutional Disaster Management structures and contingency measures.
The exercise will promote a synergistic approach by involving various institutions like the Armed Forces, National Disaster Management Authority (NDMA), National Disaster Response Force (NDRF), Defence Research and Development Organisation (DRDO), Border Roads Organisation (BRO), India Meteorological Department (IMD) and the Civil Administration.
The exercise would aid in the evolution of institutional frameworks for effective communication, interoperability, cooperation and their application for the successful conduct of HADR.
In India, NDMA is the apex statutory body for disaster management.
It was formally constituted on 27th September 2006, in accordance with the Disaster Management Act, 2005 with Prime Minister as its Chairperson.
Indian defence forces, under the aegis of Headquarters Integrated Defence Staff (HQ IDS), have been carrying out HADR operations within the country as well as outside the country.
The defence forces can deliver during various HADR contingencies because of their expertise in damage assessment, evacuation, setting up of relief infrastructure, restoring communication and providing medical facilities, distributing ration supplies, clothing etc.