World Nature Conservation Day 2023: Theme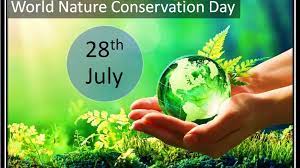 World Nature Conservation Day is observed annually on July 28 annually with an aim to preserve natural resources, biodiversity and ecology across all regions.
The National Zoological Park, New Delhi commemorated World Nature Conservation Day linking it with the goals of Mission-LiFE.
Theme for World Nature Conversation Day 2023 is 'Forests and Livelihoods: Sustaining People and Planet'
At UNFCCC COP26, India's Prime Minister introduced Mission LiFE, aiming to prioritize individual behaviors in global climate action.
LiFE seeks to shift from the wasteful 'use-and-dispose' economy to a sustainable circular economy based on mindful and intentional consumption.