Exercise Yudh Abhyas And Exercise Mitra Shakti: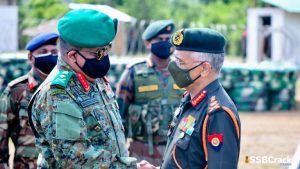 Exercise Yudh Abhyas
The 17th Indo-US Joint Military Exercise "Ex Yudh Abhyas 2021" was held at Joint Base Elmendorf-Richardson in Alaska (US).
In February 2021, the previous version of the exercise was held in Bikaner's Mahajan Field Firing Ranges (Rajasthan).
It is the largest running joint military training and defence cooperation endeavor between India and the US.
The exercise was started in 2004 under the US Army Pacific Partnership Program. The exercise is hosted alternately between both countries.
The exercise aims at enhancing understanding, cooperation and interoperability between two Armies.
This will help them in undertaking joint operations at battalion level in mountainous terrain with cold climatic conditions under the ambit of the United Nations.
Exercise Mitra Shakti:
The 8th Edition of joint military exercise between the Indian Army and the Sri Lankan Army, Exercise MITRA SHAKTI was conducted in Sri Lanka.
The 7th edition of the Mitra Shakti exercise was held in Pune, Maharashtra in 2019.
It is based on counter insurgency and counter terrorism operations in semi urban terrain.
It is the largest bilateral exercise being undertaken by the Sri Lankan Army and it forms a major part of India and Sri Lanka's growing defence partnership.
The joint exercise is designed for incorporating the current dynamics of United Nations' peacekeeping operations through tactical exercises and practical discussions.