Five-Colour Silk Imperial Edict Found In North China's Hebei Province: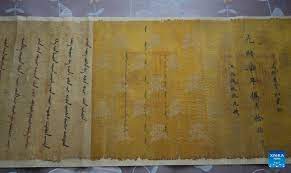 A five-colour silk imperial edict, dating back to Qing Dynasty (1644-1911), was recently found in north China's Hebei Province.
Qing Dynasty or Ch'ing Dynasty, or Manchu Dynasty, was the final imperial dynasty in China, lasting from 1644 to 1912.
It was preceded by the Han-led Ming Dynasty (1368–1644) and followed by the Republic of China era (1912–1949).
Under the Qing, the empire's territory grew to treble its size under the preceding Ming dynasty (1368–1644).
The Qing Dynasty annexed Mongolia, Northeast China, Xinjiang, Tibet, and Taiwan, establishing a territory larger than that of today's China ,the largest China has ever been.
In the early 1600s, the Manchu people of northern China began to unite against the Ming Dynasty.
They formed a somewhat military society and mobilised a large army.
In 1644, the Manchus crossed the Great Wall and invaded China.
They soon took control of the Chinese capital city, Beijing, and declared the beginning of a new dynasty called the Qing.
The first Qing Emperor was a five-year-old boy who became the Shunzhi Emperor.
The Manchus continued to expand and conquer more of China.
In 1683, under the Kangxi Emperor, the Qing Empire included all of China.