Extended Reality (XR) Startup Program: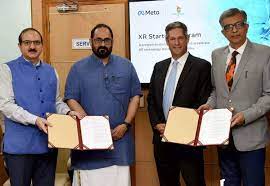 The Ministry of Electronics & Information Technology (MeitY), and Meta have recently announced the list of 120 startups and innovators for the Extended Reality (XR) Startup Program.
The XR Startup Program is a collaboration between Meta and MeitY Startup Hub (MSH).
Aim is to accelerate India's contribution towards building the foundations of the metaverse and nurturing the development of Extended Reality (XR) technologies in India.
It includes two segments namely; an Accelerator and a Grand Challenge
The Accelerator will nurture and foster 40 early-stage startups working with XR technologies through a well-designed 6-month program.
Each startup will get access to many benefits, including a grant of ₹ 20,00,000, mentorship by industry experts and researchers, access to a network of potential strategic partners and investors, technology and infrastructure support, and opportunities to participate and present at relevant industry events.
The Grand Challenge is aimed at supporting early-stage innovators to upscale from the R&D phase to developing workable prototypes and Minimum Viable Products (MVPs).
It will encourage early-stage innovators in sectors like Education, Learning and Skills, Healthcare, Gaming and Entertainment, Agritech & Climate Action and Tourism & Sustainability.
It will include 4 sector-specific challenges to advance the XR technology ecosystem in India.