Indian Startup Ecosystem: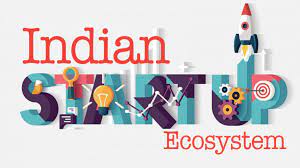 Various reforms and initiatives by the Government have led to booming of the Indian Startup ecosystem.
The term startup refers to a company in the first stages of operations. Startups are founded by one or more entrepreneurs who want to develop a product or service for which they believe there is demand.
These companies generally start with high costs and limited revenue, which is why they look for capital from a variety of sources such as venture capitalists.
The Department for Promotion of Industry and Internal Trade (DPIIT) has recognized startups which are spread across 56 diversified sectors.
More than 4,500 Startups have been recognized in sectors relating to emerging technologies such as Internet of Things (IoT), robotics, artificial intelligence, analytics, etc.
Sustained Government efforts in this direction have resulted in increasing the number of recognized Startups from 471 in 2016 to 72,993 in 2022.