Fast Track Special Courts: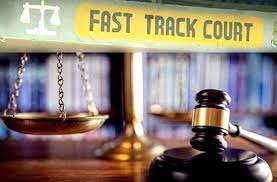 Fast track courts (FTCs) were first recommended by the Eleventh Finance Commission in 2000 "to substantially bring down, if not eliminate, pendency in the district and subordinate courts over the next five years".
Following the report, the Centre created 1,734 additional courts in different states for a period of five years. In 2011, the central government stopped funding fast-track courts.
Following the December 2012 Gangrape and murder case, the Union Government set up a 'Nirbhaya Fund', amended the Juvenile Justice Act, 2015 and set up fast-track Mahila Courts (a Special Court).
Some other states such as Uttar Pradesh, Jammu and Kashmir, Bihar etc. also set up FTCs for rape cases thereafter.
Fast Track Special Courts (FTSCs) are dedicated courts expected to ensure swift dispensation of justice.
They have a better clearance rate as compared to the regular courts and hold speedy trials.
In 2019, the government approved a scheme for setting up 1,023 FTSCs across the country for expeditious disposal of pending rape cases under the Indian Penal Code (IPC) and crimes under the POCSO Act.
It also strengthens the deterrence framework for sexual offenders.
As of June 2023, the FTSCs have successfully disposed of more than 1.74 lakh cases related to rape and POCSO Act.
This reflects the significant impact of these specialized courts in providing speedy justice to the victims of sexual offences.
763 FTSCs are currently functional across 29 States and Union Territories.