6th Census Report On Minor Irrigation (MI) Schemes: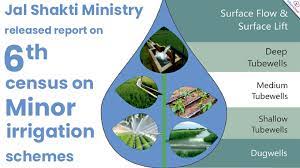 The Ministry of Jal Shakti has released the 6th census report on minor irrigation (MI) schemes, providing crucial data for effective planning and policy-making in this sector.
The census reveals that there are a total of 23.14 million minor irrigation schemes in India, with 94.8% (21.93 million) being Ground Water (GW) schemes and 5.2% (1.21 million) being Surface Water (SW) schemes.
Uttar Pradesh holds the highest number of MI schemes, followed by Maharashtra, Madhya Pradesh, and Tamil Nadu.
The report indicates a growth of 1.42 million MI schemes compared to the previous census, with a 6.9% increase in GW schemes and a 1.2% increase in SW schemes.
The ownership of MI schemes is primarily private (96.6%), with a notable finding that 18.1% of individually owned schemes are owned by women.