Global TB Report 2023: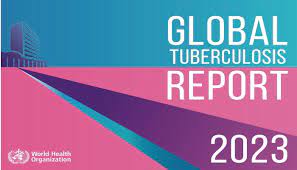 The World Health Organization (WHO) has released the Global Tuberculosis (TB) report 2023, highlighting the high burden of TB worldwide in 2022.
India accounted for the highest number of TB cases in the world in 2022, with 2.8 million TB cases, representing 27% of the global burden.
Key Findings of the Global TB Report 2023:
It was the world's second leading cause of death from a single infectious agent in 2022, following Covid-19.
TB caused almost twice as many deaths as Human Immunodeficiency Virus (HIV)/Acquired Immunodeficiency Syndrome stage (AIDS).
More than 10 million people continue to fall ill with TB every year.
30 high burden TB countries collectively accounted for 87% of the world's TB cases in 2022.
Among the top eight high burden countries, in addition to India, are Indonesia, China, the Philippines, Pakistan, Nigeria, Bangladesh, and the Democratic Republic of Congo.
In 2022, 7.5 million people were diagnosed with TB, marking the highest figure recorded since WHO began global TB monitoring in 1995.
Without treatment, the death rate from TB disease is high, at about 50%.
However, with treatments currently recommended by WHO (a 4–6 months course of anti-TB drugs), about 85% of people with TB can be cured.
There is a positive global recovery in the number of people diagnosed with TB and treated in 2022, following two years of Covid-19-related disruptions.
Countries like India, Indonesia, and the Philippines, accounted for over 60% of the global reductions.
The TB incidence rate, which measures new cases per 100,000 population per year, increased by 3.9% between 2020 and 2022.
This increase reversed the declining trend of about 2% per year that had been observed for most of the past two decades.
India reported a case fatality ratio of 12%, indicating that 12% of TB cases in the country resulted in death.
The report estimates that 3,42,000 TB-related deaths occurred in India in 2022, with 3,31,000 among HIV-negative individuals and 11,000 among those with HIV.
India recorded 1.1 lakh cases of multidrug-resistant TB (MDR-TB) in 2022, highlighting the continued challenge of MDR-TB as a public health crisis.