Finance Bill 2023: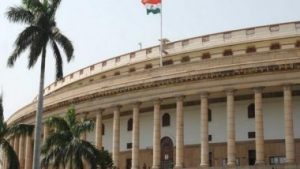 The Finance Bill 2023 was approved with amendments.
The Lok Sabha passed Finance Bill, 2023 including the setting up of the GST Appellate Tribunal (GSTAT)
Key Highlights of the bill:-
The withholding tax rate on royalties and fees for technical services paid to non-residents has been raised from 10% to 20%This may increase the cost of import of technology.
Options contracts will now attract 0.021% STT from 0.017% earlier and futures will attract a levy of 0.0125%, up from 0.01%
The Finance Bill has paved the way for setting up GST Appellate Tribunals across the country, with a principal bench in New Delhi and several State benches.
The Tribunal will be headed by a former Supreme Court judge or a retired Chief Justice of a High Court.
The stock market has seen an increase in Securities Transaction Tax (STT) on futures and options contracts from April 1, 2023.
It is to discourage excessive trade in F&O.
Finance Bill:
It means the Bill ordinarily introduced each year to give effect to the financial proposals of the Government of India.
It contains some provisions related to taxation and expenditure and additionally contains provisions related to any other matter