New Development Bank : Dilma Roussef As New Head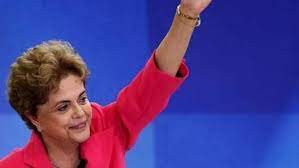 Former Brazilian President Dilma Rousseff has been "unanimously elected" as the head of the New Development Bank (NDB) recently.
NDB was formed to support infrastructure and sustainable development efforts in BRICS and other underserved, emerging economies for faster development through innovation and cutting-edge technology.
It is headquartered in Shanghai, China.
The NDB President is elected on a rotational basis from one of the founding members.
K. V. Kamath, from India, is the first elected president of the NDB.