Bodoland: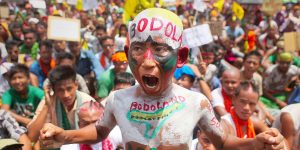 The BTAD district is currently spread over four districts of Kokrajhar, Chirang, Baksa and Udalguri.
As per the agreement, villages dominated by Bodos that were presently outside the BTAD would be included and those with a non-Bodo population would be excluded.
The memorandum of settlement says that the criminal cases registered against members of the NDFB factions for "non-heinous" crimes shall be withdrawn by the Assam government and in cases of heinous crimes it will be reviewed.
The families of those killed during the Bodo movement would get Rs. 5 lakh each.
A Special Development Package of Rs. 1500 Crore would be given by the Centre to undertake specific projects for the development of Bodo areas.
A committee will decide the exclusion and inclusion of new areas in the BTAD. Subsequent to this alteration, the total number of Assembly seats will go up to 60, from the existing 40.
Bodos:
Bodos are the single largest tribal community in Assam, making up over 5-6 per cent of the state's population. They have controlled large parts of Assam in the past.
The four districts in Assam — Kokrajhar, Baksa, Udalguri and Chirang — that constitute the Bodo Territorial Area District (BTAD), are home to several ethnic groups.
The Bodoland dispute:
In 1966-67, the demand for a separate state called Bodoland was raised under the banner of the Plains Tribals Council of Assam (PTCA), a political outfit.
In 1987, the All Bodo Students Union (ABSU) renewed the demand.
"Divide Assam fifty-fifty", was a call given by the ABSU's then leader, Upendra Nath Brahma.
The unrest was a fallout of the Assam Movement (1979-85), whose culmination — the Assam Accord — addressed the demands of protection and safeguards for the "Assamese people", leading the Bodos to launch a movement to protect their own identity.