First Bodoland International Knowledge Festival : Assam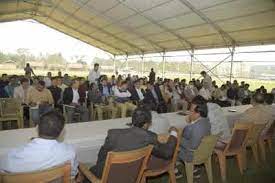 The first Bodoland International Knowledge Festival recently began in Assam's Kokrajhar district.
The festival is being hosted by Bodoland University with support from the Bodoland Territorial Region (BTR) government.
It seeks to provide a platform for thought leaders, educators, Research scholars, researchers, and practitioners to engage with constituents of Higher Education Institutions in BTR through participation.
Goal: To create, foster and promote knowledge exchange, solution sharing, and partnership building for the achievement of social development priorities and key Sustainable Development Goals (SDG) 2030 in contemporary BTR and the world.
It aims to draw the best practices from across the world to enhance scientific temperament for the creation of "Peaceful, Green and Smart Bodoland" in light of the Bodo Peace Accord 2020.
Bodo Peace Accord 2020 is a tripartite accord signed in 2020 by representatives of Bodo organizations with the Central and Assam governments.