Shi Yan 6 : Chinese Research Ship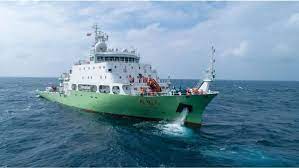 A Chinese research ship, Shi Yan 6 docked at Colombo port.
The Chinese research vessel 'Shi Yan 6' has stirred concerns due to its visit to Sri Lanka, with both the US and India voicing objections.
Shi Yan 6 was given permission to enter the (Colombo) port for replenishment.
US Under Secretary Victoria Nuland, who met Sri Lankan Foreign Minister Ali Sabry in New York on the sidelines of the UN General Assembly session, had reportedly raised concerns about the visit of 'SHI YAN 6'.
India's objection to Chinese vessels docking in Sri Lanka stems from security concerns. (India-Sri Lanka relations)
India perceives Chinese ships in close proximity to its mainland as potential security threats, suspecting espionage activities even when their stated purpose is scientific research.
This apprehension has led to objections to Chinese vessels docking in Sri Lankan ports.
China has maintained that the marine scientific research activities of Yuan Wang 5 and similar vessels align with international law and common practice and do not jeopardize the security or economic interests of any country.
In response to the US' concerns, the Sri Lankan Foreign Minister emphasized Sri Lanka's commitment to neutrality.
About Shi Yan 6:-
Shi Yan 6 is a Chinese Research/Survey Vessel.
It has a carrying capacity of 1115 DWT (deadweight tonnage).
Its current draught is reported to be 5.3 meters.
It has an overall length of 90.6 meters and a width of 17 meters.
This three-month voyage seeks to gather extensive fundamental data.
It aims to study and uncover how dynamic processes impact the biogeochemical cycles, ecosystems, and sedimentary processes in the region.