First National Training Conclave: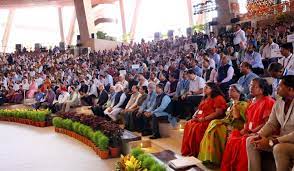 Prime Minister will inaugurate the first National Training Conclave at the International Exhibition and Convention Centre Pragati Maidan, New Delhi.
National Training Conclave is part of the National Programme for Civil Services Capacity Building (NPCSCB) – 'Mission Karmayogi'.
Objective is to foster collaboration among civil services training institutes and strengthen the training infrastructure for civil servants across the country.
The Conclave is being hosted by the Capacity Building Commission.
More than one thousand 500 representatives from various training institutes, including Central Training Institutes, State Administrative Training Institutes, Regional and Zonal Training Institutes, and Research institutes, will participate in the conclave.
Civil Servants from the Central government departments, State governments, and local governments, as well as experts from the private sector, will take part in the deliberations.
The Conclave will have eight-panel discussions, each focusing on key concerns related to Civil services training institutes such as faculty development, training impact assessment, and content digitisation.
Mission Karmyogi, or National Programme for Civil Services Capacity Building (NPCSCB), aims to prepare Civil Servants for the future by making them more creative, constructive & innovative through transparency and technology.
This unique programme will help to lay the foundation for civil servants in the country.
There will be more focus on 'on-site learning' in complementing "off-site learning".