Nobel Prize For Economic Sciences 2021: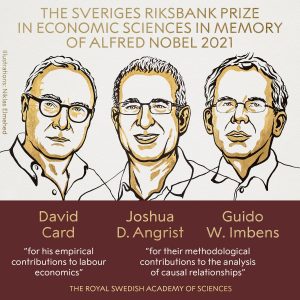 The 2021 Nobel Prize in Economic Sciences has been awarded in one half to Canadian-born David Card and the other half jointly to Israeli-American Joshua D Angrist and Dutch-American Guido W Imbens.
David Card has been awarded for his empirical contributions to labour economics. Joshua D Angrist and Guido W Imbens won the award "for their methodological contributions to the analysis of causal relationships."
The 2020 Nobel Prize in Economic Sciences was awarded to Paul R Milgrom and Robert B Wilson "for improvements to auction theory and inventions of new auction formats".
Unlike the other Nobel prizes, the economics award wasn't established in the will of Alfred Nobel but by the Swedish central bank in his memory in 1968.
David Card: He has analysed how minimum wages, immigration and education impact the labour market.
One of the significant findings of this research was that "increasing the minimum wage does not necessarily lead to fewer jobs".
It also led to the understanding that "people who were born in a country can benefit from new immigration, while people who immigrated at an earlier time risk being negatively affected".
It also illuminated the role of resources available in school in shaping the future of students in the labour market.
Joshua Angrist and Guido Imbens: They were rewarded for their "methodological contributions" to the research tool.
Their work demonstrated "how precise conclusions about cause and effect can be drawn from natural experiments".