National Defense MSME Conclave And Exhibition: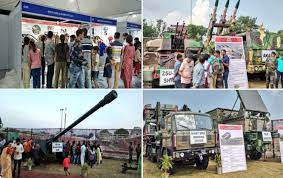 Defense Conclave and Exhibition is being organized for the first time in Rajasthan.
The two-day National Defense MSME Conclave and Exhibition began in Kota, Rajasthan.
Defense equipment including T-90 and BMP-2 tanks, artillery guns, various types of sniper and machine guns and military bridges are being displayed in the exhibition.
Youth innovating in the defense sector, start-ups and MSMEs are also displaying their products.
More than 50 companies, start-ups and MSMEs working in the defense sector are participating in the event.
The conclave was formally inaugurated by Lok Sabha Speaker Om Birla.