First Woman President Of The Indian Olympic Association: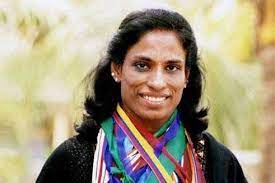 PT Usha is set to become the first woman President of the Indian Olympic Association (IOA). She will also become the first Olympian and first international medallist to head the IOA in its 95-year-old history.
The Indian Olympic Association is the governing body for the Olympic Movement and the Commonwealth Games in India.
As an affiliated member of the International Olympic Committee (IOC), Commonwealth Games Federation (CGF), Olympic Council of Asia (OCA) and Association of National Olympic Committees (ANOC), the IOA administers various aspects of sports governance and athletes' welfare in the country.
In this regard, the IOA oversees the representation of athletes or teams participating in the Olympic Games, Commonwealth Games, Asian Games and other international multi-sport competitions of IOC, CGF, OCA and ANOC.
The Indian Olympic Association is recognised by the Ministry of Youth Affairs and Sports.
The IOA was established in the year 1927 with Sir Dorabji Tata and Dr. A.G. Noehren as the Founding President and Secretary General respectively. It is registered as a Non-Profit Organisation under the Societies Registration Act of 1860.
The Indian Olympic Association is currently governed by a 32-member Executive Council, headed by President.
The election for the Executive Council is held once in every 4 years.