Indian Cellular And Electronics Association (ICEA):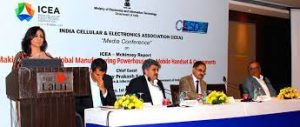 A report by the Indian Cellular and Electronics Association (ICEA) has said that India's policy of adopting high tariffs on the import of electronics components may prove to be counterproductive.
ICEA is the apex industry body of the mobile and electronics industry comprising manufacturers.
India has adopted high tariffs on the import of electronics components to reduce risks from global competition and save domestic companies.
However, it may prove to be counterproductive to its schemes aimed at increasing domestic production of electronic products.
All the countries have tried to encourage the domestic production of electronic goods in their geographies by adopting almost similar strategies such as attracting Foreign Direct Investment (FDI), improving domestic capabilities and competitiveness, increasing exports and then linking their markets with global value chains.
Since 1980 China has improved its ranking in terms of office and telecom equipment export from 35 to 1, while Vietnam, which did not export any such electronic products up until 1990s has climbed the ladder to become the eight largest export in just 20 years.
Similarly, Mexico, which was 37th in terms of electronics product export in the 1980s has steadily risen through the ranks to gain 11th place, a position it has maintained over the last two decades.
Thailand: It ranked 45 in 1980, has also consolidated its position in the top 15 electronic product exporters, according to the report.
India: On the other hand, India, which started at 40th position in the 1980s has gained and lost positions to reach 28th position by 2019.