First Women Inspector Generals Of CRPF: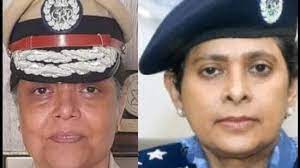 For the first time in the history of Central Reserve Police Force (CRPF), two women officers reached the rank of Inspector General (IG).
Two women officers who were recently promoted to the rank of Inspector General are IG Seema Dhundiya and IG Annie Abraham.
While IG Seema Dhundiya will head the Bihar Sector of CRPF, IG Annie Abraham will head the Rapid Action Force (RAF).
In 1986, the CRPF became the first Central Armed Police Force (CAPF) to induct women in combat.
Both Seema Dhundia and Annie Abraham were in the first batch of women officers who were inducted into CRPF in 1987. They had illustrious careers over the years.
IG Seema Dhundia is known for serving in highly sensitive areas across India.
She actively participated in raising 2nd Mahila Battalion of the CRPF.