National Mission For Clean Ganga: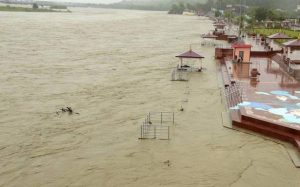 The National Mission for Clean Ganga (NMCG) has organised the 6th Edition of the monthly 'Webinar with Universities' series on 'Igniting Young Minds, Rejuvenating Rivers'.
The theme for the webinar was 'Waste Water Management.'
The National Mission for Clean Ganga (NMCG) is implemented by the National Council for Rejuvenation, Protection and Management of River Ganga also known as the National Ganga Council.
This mission was established on 12th August 2011 under the Societies Registration Act,1860 as a registered society.
Objectives:

The mission incorporates rehabilitating and boosting the existing STPs (Sewage Treatment Plants) and instant short-term steps to curb pollution at exit points on the riverfront in order to check the inflow of sewage.
To maintain the continuity of the water flow without changing the natural season variations.
To restore and maintain the surface flow and groundwater.
To regenerate and maintain the natural vegetation of the area.
To conserve and regenerate the aquatic biodiversity as well as the riparian biodiversity of the river Ganga basin.
To allow participation of the public in the process of protection, rejuvenation and management of the river.