FM Transmitters : Recently Launched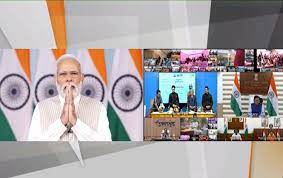 Prime Minister Narendra Modi recently launched 91 new 100-watt capacity FM transmitters.
Frequency Modulation is the encoding of information in a carrier wave by varying the instantaneous frequency of the wave.
In analogue FM (radio broadcasting), the instantaneous frequency deviation has a functional relation to the modulating signal amplitude.
FM transmitters is a low-power FM radio transmitter that broadcasts a signal from a portable audio device to a standard FM radio.
Most of these transmitters plug into the device's headphone jack and then broadcast the signal over an FM broadcast band frequeny so that it can be picked up by any nearby radio.
This allows portable audio devices to make use of the louder or better sound quality of a home audio system or car stereo without requiring a wired connection.
Being low-powered, most transmitters typically have a short range of 100-300 feet (30–91 metres), depending on the quality of the receiver, obstructions and elevation.