Foreign Cicada : Assumed An Indian Identity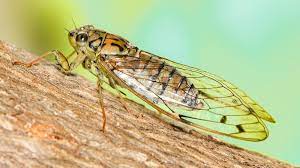 A 'foreign' cicada that is commonly found in several parts of South India has assumed an Indian identity.
The insect species that has now been named as Purana cheeveeda (after its Malayalam name Cheeveedu) used to be mistaken for Purana tigrina, a species that was first described in Malaysia in 1850.
Due to the differences in their morphological characteristics, the Association for Advancement in Entomology has corrected the longstanding error in taxonomic identification and has excluded the Malaysian species from the South Indian cicada fauna.
Cicadas are hemipteran insects known for their loud, complex and species-specific acoustic signals or songs.
The generic diversity of cicadas in India and Bangladesh ranks the highest in the world, followed by China.
Most cicadas are canopy dwellers and are found in natural forests with large trees.
cheeveeda could extend across the tropical evergreen forests ranging from Goa to Kanyakumari.