Alaska Peninsula : 7.2-Magnitude Earthquake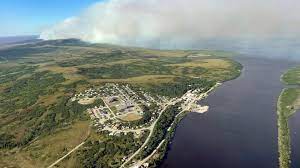 A powerful 7.2-magnitude earthquake recently struck the Alaska Peninsula region.
Alaska Peninsula is a long, narrow strip of land located in the southwestern part of the U.S. state of Alaska.
It extends about 800 kilometres (500 miles) in a southwest direction from the mainland of Alaska.
It separates the Pacific Ocean from Bristol Bay, an arm of the Bering Sea.
The peninsula is largely mountainous, with numerous active and dormant volcanoes, rugged coastlines, deep fjords, and vast expanses of wilderness.
The volcanic Aleutian Range runs along its entire length.
The Pavlof Volcano, near the peninsula's southwestern edge, rises to more than 8,260 feet (2,518 metres) and is the most active volcano in the Aleutian volcanic arc.
It has been inhabited for thousands of years by indigenous peoples, primarily the Aleut and Alutiiq (Sugpiaq) communities.
It is sparsely populated, with small communities scattered along its coastline.