FOSS4GOV Innovation Challenge: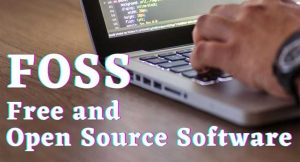 The Ministry of Electronics & IT (MeitY) has announced the #FOSS4GOV Innovation Challenge to accelerate the adoption of Free and Open Source Software (FOSS) in the Government.
Free and Open Source Software (FOSS):
It doesn't mean the software is free of cost.
The term "free" indicates that the software does not have constraints on copyrights.
It means that the source code of the software is open for all and anyone is free to use, study and modify the code.
It allows other people also to contribute to the development and improvement of the software like a community.
The Free and Open Source Software may also be referred to as Free/Libre Open Source Software (FLOSS) or Free/Open Source Software (F/OSS).
Examples of FOSS include MySQL, Firefox, Linux, etc.
Another category of software is 'Closed Source Software'.
The software uses proprietary and closely guarded code.
Only the original authors have the authority to access, copy, and alter that software.
In this case, one does not purchase the software, but only pays to use it.
About the Challenge:
It will harness the innovation potential of the FOSS community and start-ups to solve critical issues in Government Technologies (GovTech).
It calls upon FOSS innovators to submit implementable open-source product innovations in CRM and ERP with possible applications for Govtech in Health, Education, and Agriculture, etc.
CRM stands for "Customer Relationship Management".
ERP stands for "Enterprise Resource Planning" and refers to software and systems used to plan and manage all the core supply chain, manufacturing, services, financial and other processes of an organization.
It is a key component of GovTech 3.0, which is about building secure and inclusive Open Digital Ecosystems (ODEs).
The participants are eligible for incubation support, prize money, mentorship by domain experts, institutional support from eminent organizations for incubation of ideas, and listing of solutions on Government e-Marketplace (GeM).