Gandhi Sagar Wildlife Sanctuary: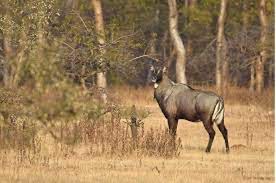 India is preparing to import a fresh batch of cheetahs from South Africa and introduce them into Madhya Pradesh's Gandhi Sagar Wildlife Sanctuary.
Gandhi Sagar Wildlife Sanctuary is situated on the northern boundary of the Mandsaur and Nimach districts in Madhya Pradesh.
It is spread over an area of 368.62 km2 (142.32 sq mi) adjoining Rajasthan state.
It lies in the Khathiar-Gir dry deciduous forest ecoregion.
It was notified in the year 1974 and added to the list of sanctuaries in 1984.
River Chambal flows through the sanctuary, dividing it into two parts.
The sanctuary is characterised by its diverse topography, which includes hills, plateaus, and the catchment area of the Gandhi Sagar Dam on the Chambal River.
The sanctuary has many places of historical, archaeological and religious importance, such as Chaurasigarh, Chaturbhujnath temple, Bhadkaji rock paintings, Narsinghjhar Hinglajgarh fort, Taxakeshwar temple etc.