Samudra Prahari : Indian Coast Guard Ship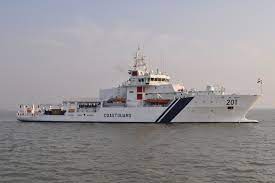 The Indian Coast Guard Ship (ICGS) Samudra Prahari is presently deployed on an overseas mission encompassing ASEAN nations.
Samudra Prahari is an Indian Coast Guard Ship (ICGS) specially designed for pollution control.
It is the first pollution control vessel of its kind in Southeast Asia.
It is equipped with the most advanced pollution Response and Control equipment for mitigating oil spills in the Exclusive Economic Zone.
It has tanks and inflatable barges for storage of oil spills.
The ship is capable of unhindered oil recovery operations with a storage capacity of 500 KL.
The vessel is designed to operate a twin-engine Advanced Light Helicopter and to operate and embark Chetak helicopter.
Special features include an integrated platform management system, power management system, high power external fire fighting system and one indigenous gun mount with fire fighting system.
The ship has unmanned machinery operation capabilities.
ASEAN:
The Association of Southeast Asian Nations (ASEAN) is a regional grouping which was established in 1967 with the signing of the Bangkok Declaration.
Founding members: Indonesia, Malaysia, Philippines, Singapore, and Thailand.
Presently, ASEAN comprises 10 member states, namely Indonesia, Malaysia, Philippines, Singapore, Thailand, Brunei, Laos, Myanmar, Cambodia and Vietnam.
It promotes intergovernmental cooperation and facilitates economic, political, security, military, educational, and sociocultural integration between its members and other countries in Asia.