Ganga Utsav 2021-The River Festival: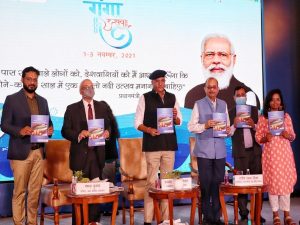 The 5th edition of Ganga Utsav-The River Festival 2021 has begun which celebrates the glory of the National river Ganga.
Ganga was declared as the National River of India on 4th November 2008.
The event will also comprise, launch of the Ganga Tarang Portal, curtain raiser on Ganga Knowledge Portal and many more.
The National Mission for Clean Ganga (NMCG) celebrates the festival every year to strengthen the Public – River Connection.
NMCG is the implementation wing of National Ganga Council, set up in 2016, which replaced the National Ganga River Basin Authority (NRGBA).
The NMCG has been registered in the Guinness Book of World Records on the first day of Ganga Utsav 2021 for the highest number of photos of handwritten notes that were uploaded on Facebook in an hour.
The Utsav celebrates the mystical and cultural river Ganga through storytelling, folklore, dialogues with eminent personalities, quizzes, displaying traditional artforms, dance and music performances by renowned artists, photo galleries and exhibitions and much more.
It highlights the significance of Jan Bhagidari (People's Participation) in the revival of Ganga, with a focus on encouraging stakeholder engagement and public participation towards the rejuvenation of river Ganga.