PM-SHRI Yojana: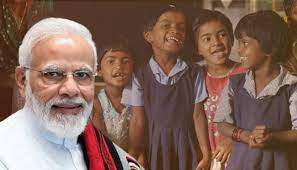 On the occasion of Teacher's Day today, Prime Minister Narendra Modi has announced a new initiative – the development and upgradation of 14 thousand 500 schools across the country under the Pradhan Mantri Schools For Rising India (PM-SHRI) Yojana.
These PM-SHRI schools will become model schools which will encapsulate the full spirit of National Education Policy.
The PM-SHRI schools will have a modern, transformational and holistic method of imparting education.
The new National Education Policy was launched in 2020.
The NEP replaced the 34-year-old National Policy on Education framed in 1986 and is aimed at paving the way for transformational reforms in school and higher education systems.