Today Current Affairs: 26th March 2021 for UPSC IAS exams, State PSC exams, SSC CGL, State SSC, RRB, Railways, Banking Exam & IBPS, etc
Hunar Haat: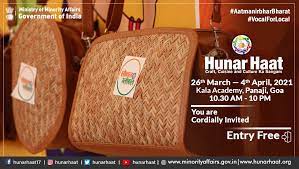 28th Edition of the Hunar Haat of indigenous products of artisans and craftsmen is being organized at Kala Academy in Panaji, Goa.
The event was started from March 26th and will conclude on April 4, 2021. It is being organized under the theme- "Vocal for Local".
According to Union Minister for Minority Affairs, Mukhtar Abbas Naqvi, "Hunar Haat" is a "Perfect, Popular and Proud Platform" to popularise the indigenous artistry and crafts across the country. The event will be formally inaugurated on March 27, 2021.
Hunar Haat
Hunar Haat is being organized by the Union Ministry of Minority Affairs where more than 500 artisans and craftsmen from 30 states and UTs have participated. Artisans and craftsmen from states like Assam, Andhra Pradesh, Delhi, Goa, Bihar, Chandigarh, Jharkhand, Gujarat, Karnataka, Manipur, Meghalaya, Madhya Pradesh, and other states have brought indigenous magnificent handmade products to showcase, sale and display at the event.
They will showcase products like Bidriware, Kalamkari, Madhubani Paintings, Udayagiri Wooden Cutlery, products made from cane-bamboo-jute, Tussar silk, Moonga Silk, Marble products, Leather products, Black Pottery, Handloom, etc.
Visitors will also enjoy traditional foods like Goa, Mughlai, South Indian, Punjabi, Malayali, Bengali food, etc at "Bawarchi Khana" in the event.
Electoral Bonds: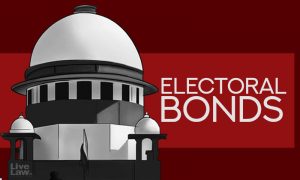 Supreme Court of India, on March 26, 2021, refused to stay the sale of a fresh set of electoral bonds from 1 April.
Supreme Court, while refusing the stay, underlines that these bonds were allowed to be released in 2018 and 2019 without any interruption.
There exists no justification to stay these bonds as sufficient safeguards are there. Apex Court also highlighted that; electoral bonds not only benefit the ruling party.
Supreme Court Bench; comprising of Chief Justice of India, SA Bobde, Justices AS Bopanna, and V Ramasubramanian; was hearing the plea filed by NGO Association for Democratic Reforms (ADR) which was asking to stay the electoral bonds ahead of assembly polls.
NGO claimed that any further sale of electoral bonds ahead of upcoming assembly polls in Assam, West Bengal, Tamil Nadu, Kerala, and Puducherry will increase illegal and illicit funding for political parties through shell companies.
Electoral Bond:
Electoral Bond is a financial instrument for making donations to political parties.
The bonds are issued in multiples of Rs. 1,000, Rs. 10,000, Rs. 1 lakh, Rs. 10 lakh, and Rs. 1 crore without any maximum limit.
State Bank of India is authorized to issue and encash these bonds, which are valid for fifteen days from the date of issuance.
These bonds are redeemable in the designated account of a registered political party.
The bonds are available for purchase by any person (who is a citizen of India or incorporated or established in India) for a period of ten days each in the months of January, April, July, and October as may be specified by the Central Government.
A person being an individual can buy bonds, either singly or jointly with other individuals.
The donor's name is not mentioned on the bond.
Indo-Korean Bilateral Friendship Park: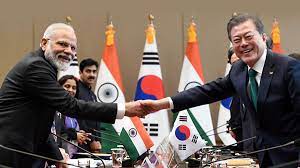 Indian Defence Minister, Rajnath Singh and South Korean Defence Minister, Suh Wook have inaugurated the "Indo-Korean Bilateral Friendship Park" in Delhi Cantt on March 26, 2021. Friendship Park has been built to commemorate the contribution of Indian peacekeepers in the Korean War from 1950 to 1953.
India-South Korea Relations
India-South Korea relations have strengthened in recent years with the convergence of Act East Policy (AEP) of India and New Southern Policy (NSP) of South Korea. Bilateral ties have frown multi-dimensional in the fields of Maritime security, nuclear disarmament, regional economic cooperation, counterterrorism, and energy cooperation.
India had played a crucial role in the Korean wars from 1950 to 1953.
In the year 1947, India's first foreign secretary, K P S Menon, served as Chairman of the United Nations (UN) Commission which was set up to look after elections in South Korea.
During the Korean War, warring sides accepted UN resolution which was sponsored by India to call a ceasefire.
The official bilateral and diplomatic ties between both countries were started in 1962 at the consular level. In 1973, the relation was upgraded to Ambassador-level.
Business Responsibility And Sustainability Report (BRSR):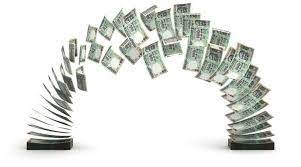 The Securities and Exchange Board of India (SEBI) has decided to introduce new requirements for business sustainability reporting by listed entities.
This new report will be called the Business Responsibility and Sustainability Report (BRSR) and will replace the existing Business Responsibility Report (BRR).
SEBI, in 2012, mandated the top 100 listed entities by market capitalisation to file Business Responsibility Reports (BRR) as per the disclosure requirement emanating from the 'National Voluntary Guidelines on Social, Environmental and Economic Responsibilities of Business' (NVGs).
In 2019, the Ministry of Corporate Affairs revised NVGs and formulated the National Guidelines on Responsible Business Conduct (NGRBC).
In December 2019, SEBI extended the BRR requirement to the top 1000 listed entities by market capitalization, from the financial year 2019-20.
Listed Entity: A company whose shares are traded on an official stock exchange.
Market Capitalization: It refers to how much a company is worth as determined by the stock market. It is defined as the total market value of all outstanding shares.
To calculate a company's market cap, multiply the number of outstanding shares by the current market value of one share.
About Business Responsibility and Sustainability Report (BRSR):
BRSR, which is from an Environmental, Social, and Governance ("ESG") perspective, is intended to enable businesses to engage more meaningfully with their stakeholders.
It will encourage businesses to go beyond regulatory financial compliance and report on their social and environmental impacts.
The BRSR will be applicable to the top 1000 listed entities (by market capitalization), for reporting on a voluntary basis for FY 2021 – 22 and on a mandatory basis from FY 2022 – 23.
National Bank For Financing Infrastructure And Development (NBFID) Bill, 2021: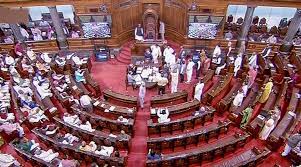 The Rajya Sabha cleared the National Bank for Financing Infrastructure and Development (NBFID) Bill, 2021.
The Bill seeks to establish the National Bank for Financing Infrastructure and Development (NBFID) as the principal Development Financial Institution (DFIs) for infrastructure financing.
NBFID was announced in the Budget 2021.
NBFID will be set up as a corporate body with an authorized share capital of one lakh crore rupees.
Objective:

To directly or indirectly lend, invest, or attract investments for infrastructure projects located entirely or partly in India.
Includes facilitating the development of the market for bonds, loans, and derivatives for infrastructure financing.

Functions of NBFID:

Extending loans and advances for infrastructure projects.
Taking over or refinancing such existing loans.
Attracting investment from private sector investors and institutional investors for infrastructure projects.
Organizing and facilitating foreign participation in infrastructure projects.
Facilitating negotiations with various government authorities for dispute resolution in the field of infrastructure financing.
Providing consultancy services in infrastructure financing.
Helium Crisis: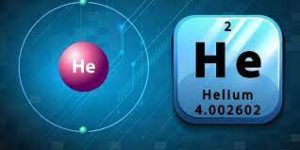 India imports helium for its needs, and with the USA appearing set to cut off exports of helium since 2021, Indian industry stands to lose out heavily.
The Federal Helium Reserve which is the major helium reserve of the USA is set to close down production in 2021, and scientists are looking for new reserves to replace it.
About Helium:
Helium is a chemical element with the symbol He and atomic number 2.
It is a colorless, odorless, tasteless, non-toxic, inert, monatomic gas, the first in the noble gas group in the periodic table.
Its boiling point is the lowest among all the elements.
The Energy And Resources Institute (TERI) And Shell Report:

The Energy and Resources Institute (TERI) and Shell have released a report titled "India: Transforming to a Net-Zero Emissions Energy System".
It illustrates a pathway to steer the domestic energy system towards net-zero emissions by 2050 while achieving India's sustainable economic development ambitions.
Possible yet Challenging: India needs a suitable policy and innovation-driven context to deploy clean energy technologies on a massive scale.
Increase Renewables: The share of renewables in the power mix needs to increase to 90% for India to meet its net-zero goal. This is around 11% in 2019-2020.
Coal-fired Power Plants: India must phase out its coal-fired power plants and remove them altogether by 2050.
Technology Access: The availability, or absence, of Carbon Capture and Storage (CCS), would define the shape of India's energy systems. If CCS technology were commercially unviable:
Biofuels would have to account for 98% of India's oil, compared to a negligible share currently.
Over two-thirds of India's industrial and transport energy use would have to be electrified, compared to less than 20% share of electricity in industrial energy use and negligible share in transport energy use as of now.